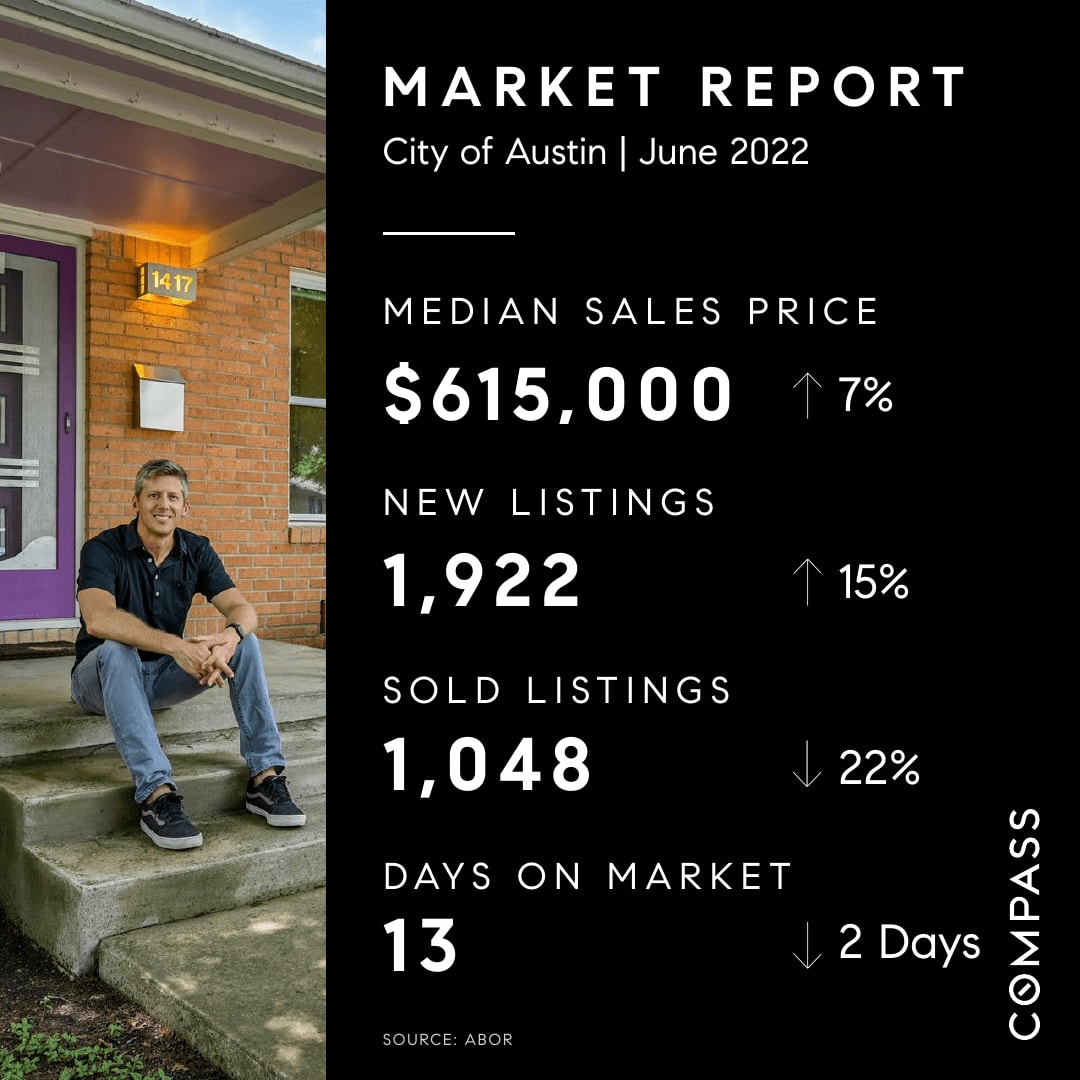 With inventory increasing by 15% last month, the options for buyers continue to increase. This is a welcomed relief for buyers who seem to be in a more reasonable market. The natural next thought here is what this means for sellers. For years, and especially during the pandemic, appreciation has accelerated at a rapid rate. Coupled with low interest rates and huge influx of new industry leading to what some have deemed a housing shortage, we've been in a seller's paradise.
May and June have brought some measure of uncertainty around what sellers can now expect when selling their home and navigating the market seems to evolve weekly. There is continued doomsday talk however, let us look at the numbers:
According to ABOR:
"In the City of Austin, home sales in the first half of the year decreased 10.7% year over year to 5,789 sales, while the median price increased 15.1% to $610,000. At the same time, sales dollar volume rose 2.4% to $4,372,274,870. New listings decreased 0.8% to 7,788 listings; active listings increased 39.4% to 832 listings; and pending sales dropped 17.8% to 5,903 pending sales. This June, home sales dropped 22.9% year over year to 1,048 sales. At the same time, sales dollar volume decreased 16.1% to $800,231,967, while the median price rose 7.9% to $615,000–setting a record for the month of June. During the same period, new listings increased 15% to 1,922 listings; active listings skyrocketed 144.9% to 1,935 active listings; and pending sales tumbled 35.5% to 872 sales. Housing inventory increased 1.1 months of inventory to 1.8 months of inventory."
In short, yes, inventory is rising and homes are taking longer than 48 hours to sell. However - the median sales price rose by 7.9%, setting a new record. Could this suggest that sellers are continuing to see excellent returns on their investment while simultaneously allowing more buyers to enter our market? Possibly.
One of the biggest things that stands out to me about the Round Rock MSA data is the number of days on market. Similar to what the City of Austin is experiencing with a continued increase in home sales price medians, Round Rock MSA is experiencing an increased time to sell.

If you are thinking of or planing to sell, this data point is essential in adjusting how you position yourself in the market. Previously there was very little you needed to do to close a sale in the central Texas area. Now the more you do to prepare your home to bring to market (check out our seller's checklist here) the stronger you will position yourself for a smooth and quick sale. With increasing inventory comes increased competition. Things like fresh paint, stellar curb appeal, and photo ready homes will stand out from the crowd.
Most importantly though will be pricing. If your home is in better condition and is priced correctly it is most likely to be "absorbed" or go under contract before the rest of the competition.
Reach out if you're looking to sell and want to explore what preparing your home might look like!